How to boost your computer's speed
Your laptop is freezing, your programs open slowly, and applications take forever to load. Sound familiar? A slow computer can drive even the most patient person up the wall! How to speed up computer performance? We've got a secret to share. There's a tool that can help you eliminate these problems: RocketFixio. Thanks to this unique software, you can say goodbye once and for all to long loading times, system errors, programs that take forever to open, and a constant lack of free disk space. From the guide below, you'll learn how to increase your PC speed and keep that pace with RocketFixio. Ready to start? Then let's go!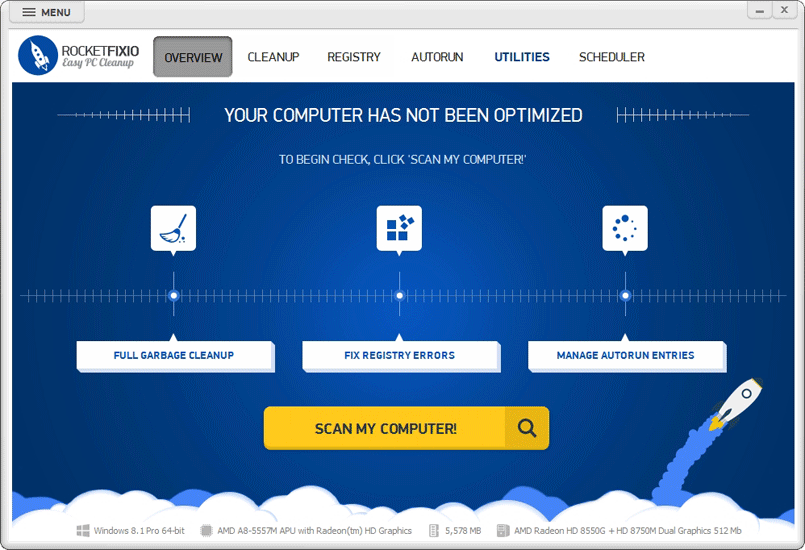 Main window shows different tools you can use
Why does your computer freeze?
Your operating system is a bit like a human body: over time, its speed and performance decline. The reasons for this include outdated files, incorrect registry keys, and piled-up junk. In theory, it's possible to clean your computer up manually, but you'll leave behind unused files that will continue dragging down your system. How to boost computer speed in this case? Our innovative system speedup software is here to save the day — it can speed up your operating system by 70%, as if you had freshly installed it.
RocketFixio can clean and optimize Windows (10, 8, 7 and Vista). It's extremely fast and completely safe. At only 20 MB, it's fairly compact, so it won't take up lots of space on your laptop's disk.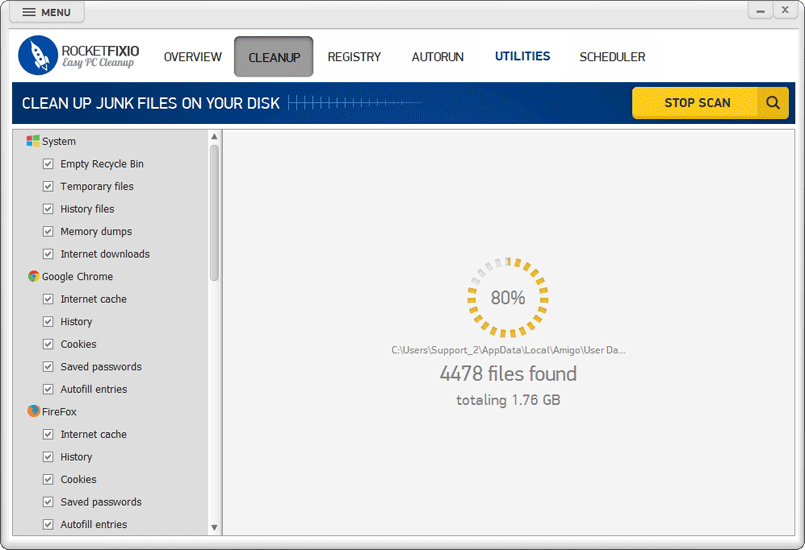 Scanning for the junk files
How Does It Work?
Download RocketFixio from the official website and start the program. In the main menu, you will see three ways to improve your computer speed: cleaning junk files, fixing registry errors and checking autorun entries. To begin the scan, click "Scan My Computer" and RocketFixio will begin doing magic with your system! When the scan is finished, the program will show you how many errors it found. You can fix them all at once by clicking "Fix All Problems". RocketFixio will instantly free you of all the junk that has accumulated over the time you've used the system.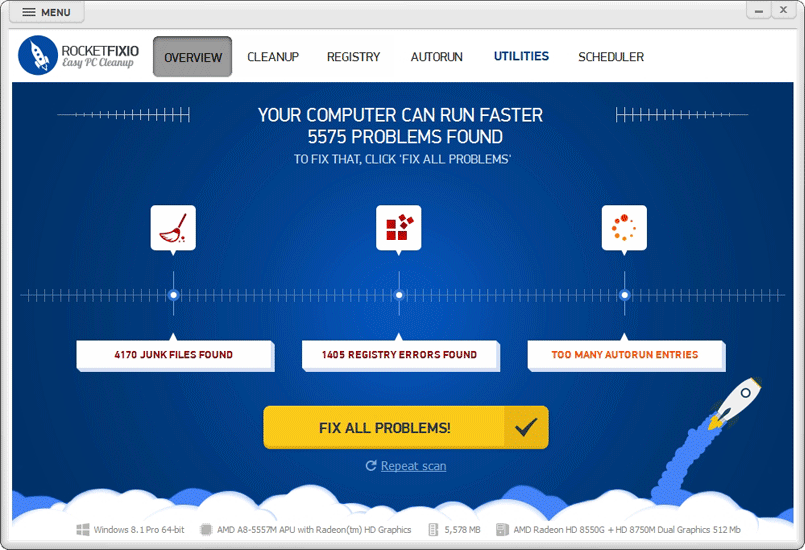 We found a lot of junk files in the system
If you don't want to perform the full scan every time, use each of the cleaning tools separately. Let's take a look at each of them.
Step 1. Increase Your PC Speed
One of the first things to do is to clean all the junk files from your hard disk. Just click "Full Garbage Cleanup" and allow RocketFixio to scan. When complete, remove all unneeded files in a single click! If necessary, you can uncheck some file categories before cleaning.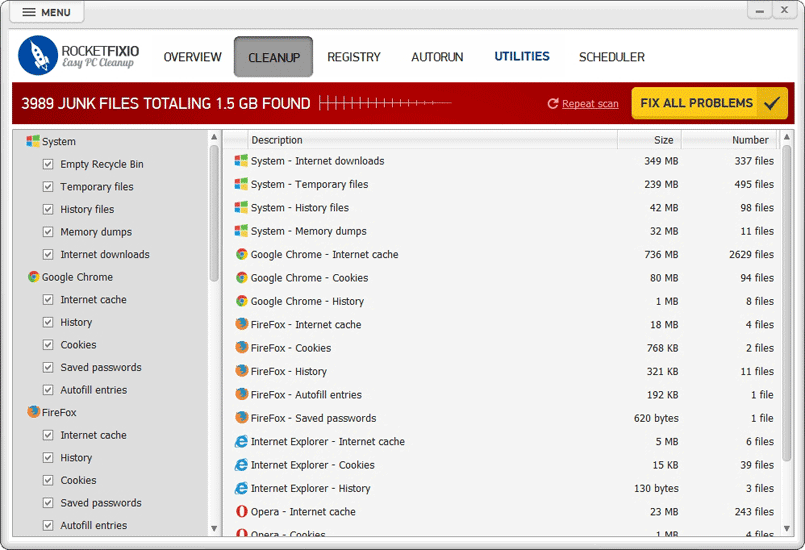 You can get a detailed report on each problem
Step 2. Optimize Windows Registry
The Windows registry becomes bogged down by incorrectly uninstalled software, leading to long loading and search times. That's why regular registry cleaning is another essential step to optimize Windows performance. With RocketFixio, you can quickly and safely brush up your system registry.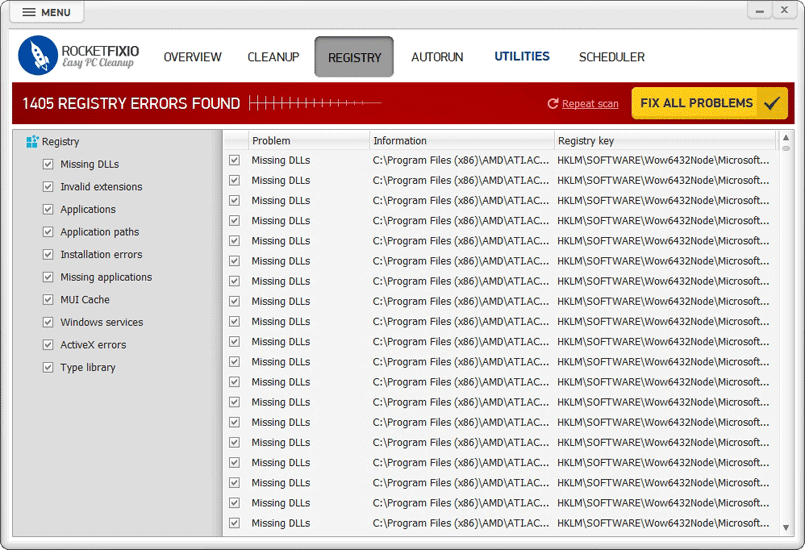 Fixing registry errors in the Windows system
Step 3. Check Autorun Entries
Managing autorun processes allows you to control which applications and programs on your PC are loaded automatically when you start the system. Having more than 10 applications in the autorun list can result in decreased computer performance. How can you remove autorun programs? Navigate to the autorun manager. There, you'll see all the items that run whenever you start your laptop. You can add or delete items and enable or disable any application in the list. This will significantly increase your PC speed.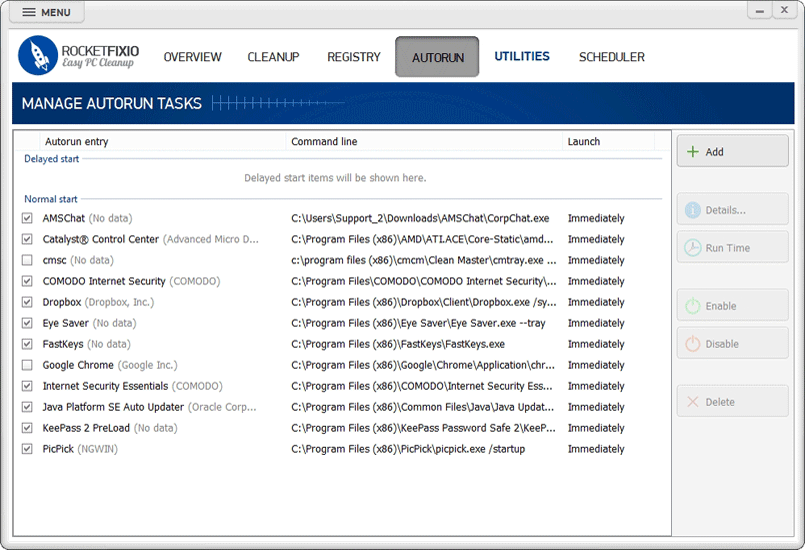 Better to have as few autorun entries as possible
As an added bonus, you can also set up the convenient Scheduler to automatically monitor your system for junk. If necessary, you can get information about your computer as well: its name, whether it's a 32- or 64-bit version, how much memory it has, and graphics card and CPU specifications.
Conclusion
In this overview, we showed you how to boost PC speed with RocketFixio. As you can see, with its help, you can save not only your nerves, but money, too. Now, there is no need to call a tech guy and pay him for the things you can do yourself with RocketFixio.
Download RocketFixio to free your OS of old, unneeded files and improve your computer speed right now!