How to Fix Registry Errors
Your Windows system started to freeze and become glitchy? It all begins with a few small errors here and there, but in the end the system gets so slow you can't even work with it anymore. How to prevent this? One of the key things is to clean your PC and fix registry errors every month or two.
What's registry? Windows registry is an important database where all system the info is stored. For instance, what programs are installed, their paths, keys and settings. So, the longer you use your system, the more information is piled up in the registry. This leads to slower startup and even system crashing. How to repair windows registry and not waste time on manual cleaning? In this guide, you will discover 4 simple steps how to do that safely.
Here they are:
Step 1. Download RocketFixio
Start with downloading registry repair software. We recommend checking out RocketFixio. This easy-to-use yet powerful program will help you fix windows registry errors in no time. What's more, you will be able to safely clean your PC from all the junk, like temporary, duplicated or large files. Just visit the official website and download the latest version.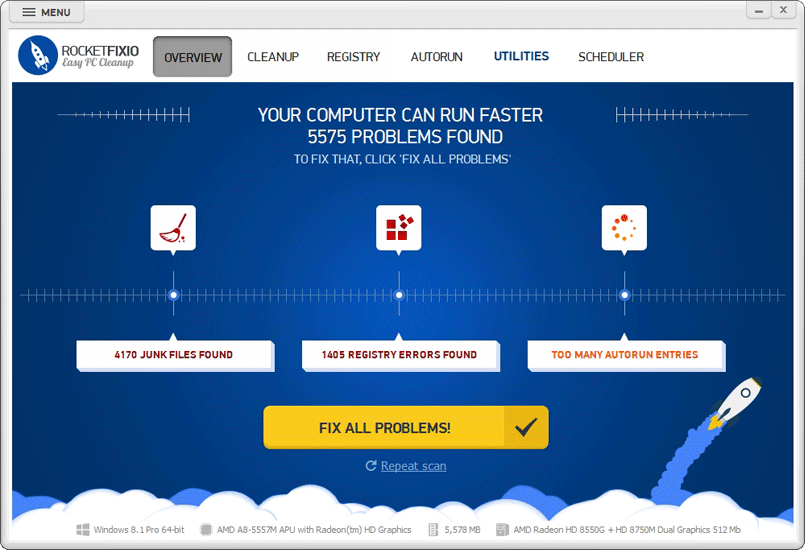 RocketFixio will also help you clean junk files and manage autorun entries.
Step 2. Scan Your Registry
Launch RocketFixio. In the main menu, click the Registry tab. The program can look for and solve different types of registry issues: missing DLLs, invalid extensions, installation errors, etc. Check the boxes for the things you want to be found. If you are not sure what boxes to check, use the default settings to fix all types of errors. Click Scan to start searching for these problems.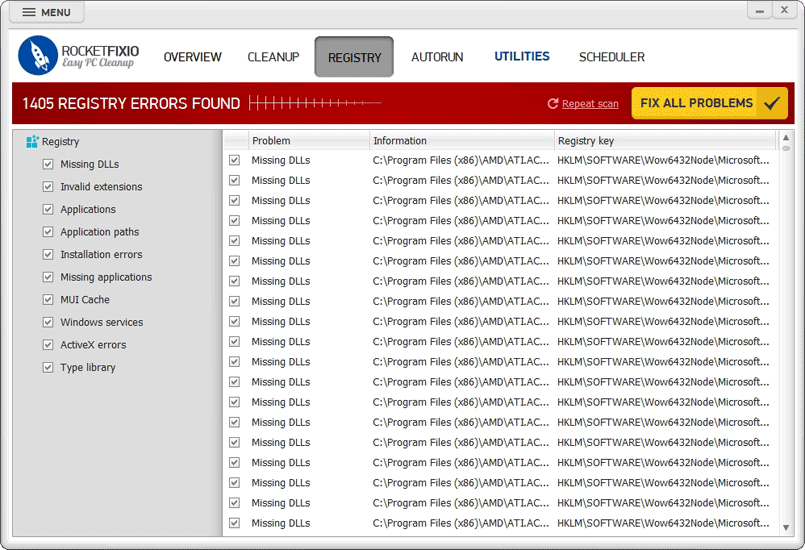 Run the smart scan to locate different registry issues
Step 3. Repair Registry Errors
Scanning will take a minute or two. When finished, the program will create a detailed search report. You will be able to see all the necessary info on each issue: its type, path and registry category. Look through the report and check the boxes for the problems you want to fix. Now click "Fix All Errors" and watch how RocketFixio eliminates all selected issues.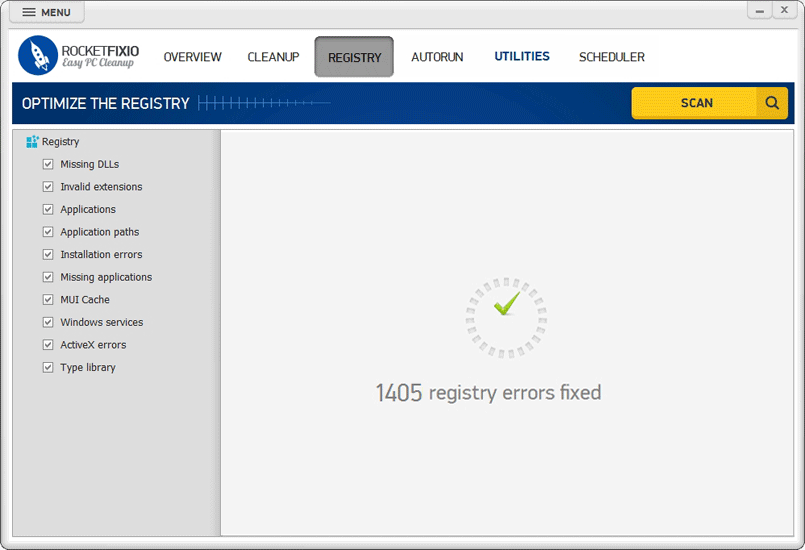 RocketFixio will resolve all found issues automatically
Step 4. Set Up a Schedule
After RocketFixio repairs all registry errors, it will give you a final report showing how many issues were resolved. Now it's time to create a schedule and let the program clean the system registry automatically while you're doing your own work. Switch to Scheduler and check the Optimize registry box. Set a desired time period and choose what categories you want to clean. Now you can forget about starting the scan every time - RocketFixio will find and fix all registry problems for you. Simple as that!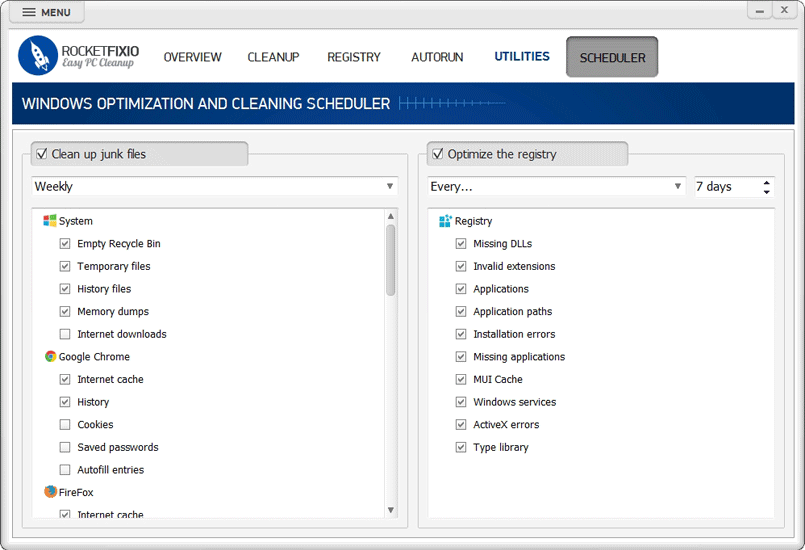 Create a schedule and forget about manual cleaning
Now you know how to fix registry errors without spending too much time and effort. Eager to see how fast your PC can be after you follow these steps? Then download RocketFixio from the official website right now!