How to increase performance on Windows 10
Want your home or work PC to run several times faster than it does now? It's easy if you install some special software. RocketFixio is a program that improves PC performance on Windows 10, so your computer will fly through the internet and perform other tasks at the speed of light. Below, we'll take a look at the software's main features. In the end, you will be able to make your Windows 10 faster quickly and easily.
Step 1. Get rid of junk on your computer
Deleting unnecessary items that take up your PC's memory and slow it down is the first thing you should do. With smart software to speed up Windows 10 you will be able to wipe all that garbage in a single click. After running scans in the "Cleanup" and "Registry" tabs, you will be able to locate all of these items and learn their locations on the computer, so you can get rid of them.
This way, you will remove all the trash that's built up in the Recycle Bin, your browser, and the registry in literally five clicks. The registry contains information about all of your PC settings. However, over time, this database becomes cluttered. As a result, you need to delete outdated information from it if you want to increase your Windows 10 performance. Better to do this with specialized software, so you can avoid deleting important files by accident.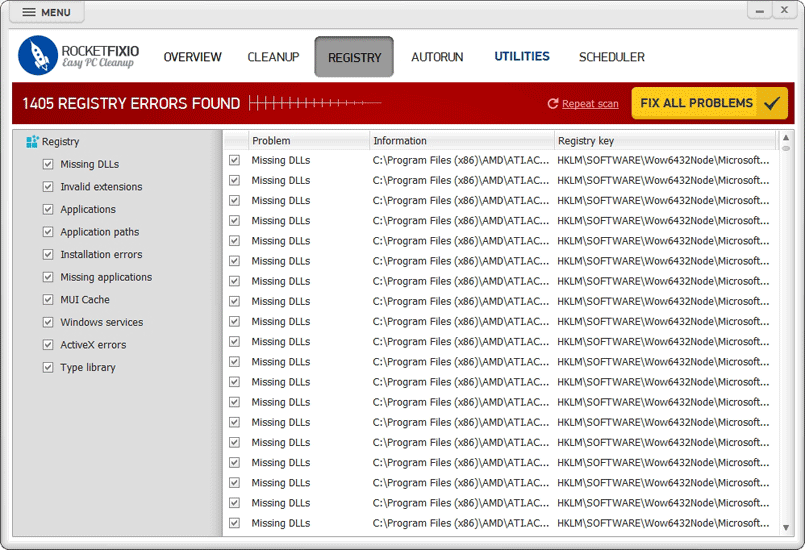 Cleaning up Windows registry with RocketFixio
Step 2. Uninstall unneeded programs
You might want to take a look at all the programs installed on your computer. Having too much software installed can significantly slow down your system performance. RocketFixio will show you a list of every item installed on your PC. It will also help you to eliminate the ones you do not need.
RocketFixio also allows you to manage autorun tasks. How to increase performance on Windows 10 with this option? Generally, applications that start at the same time as the rest of the system take up lots of resources. For this reason, they're especially important to pay attention to. That's why you should consider disabling some of them if you want to make your system faster.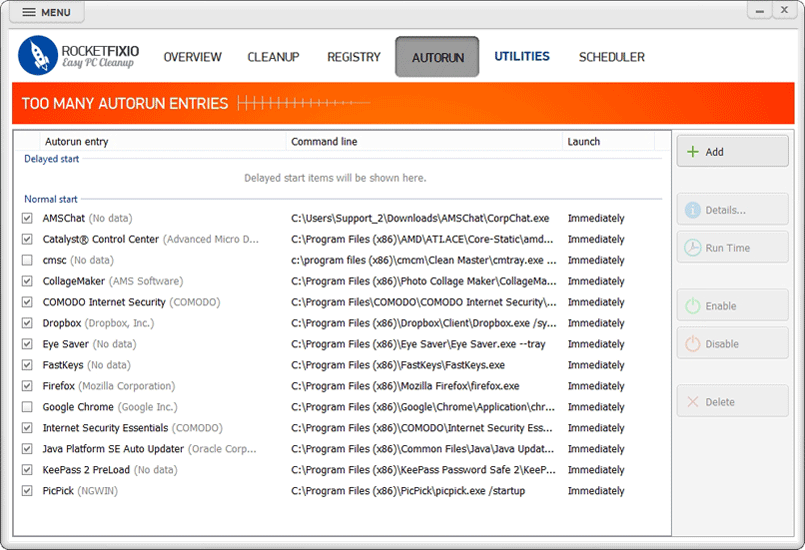 Working with the autorun entries
Step 3. Delete unnecessary files
If you are not sure how to boost performance on Windows 10 using RocketFixio, you will want to try using the "Search for duplicates" and "Search for large files" options.
These "large files" include all files larger than the size you specify in the search settings. Usually, they include files like movies, archives containing photos and music, game installers, and so on. It's better to keep all these files on removable storage, like USB, DVD or external hard drive.
We often copy files from other folders or even Desktop for easier access. As a result, your system gets crammed up with duplicated files. These copies confuse not only you but Windows too since the system needs time to process all these files. RocketFixio will help you get rid of them and keep your computer clean.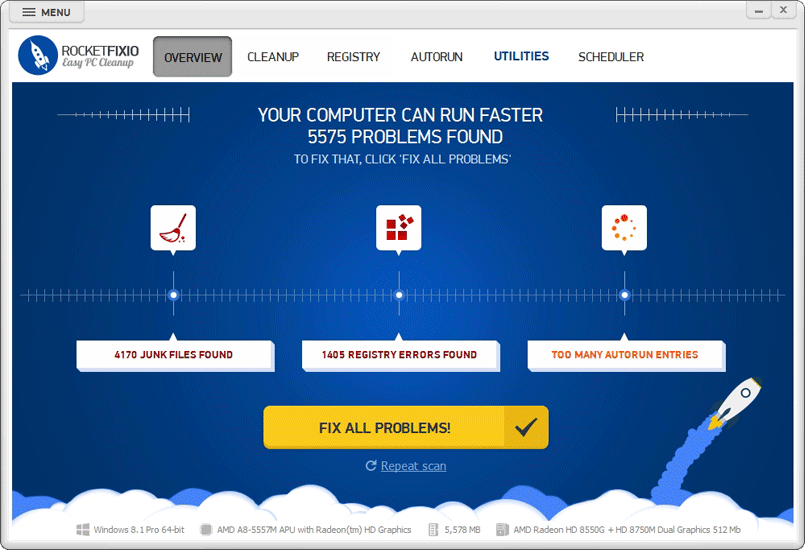 Look through the report to see what files should be removed
Look at the scan results! You'll be surprised how many items were found on your PC whose presence you might have never suspected before! The software will give you the exact location of each item, its size, and other information. It'll also help you eliminate other unneeded items, freeing up space for more useful ones.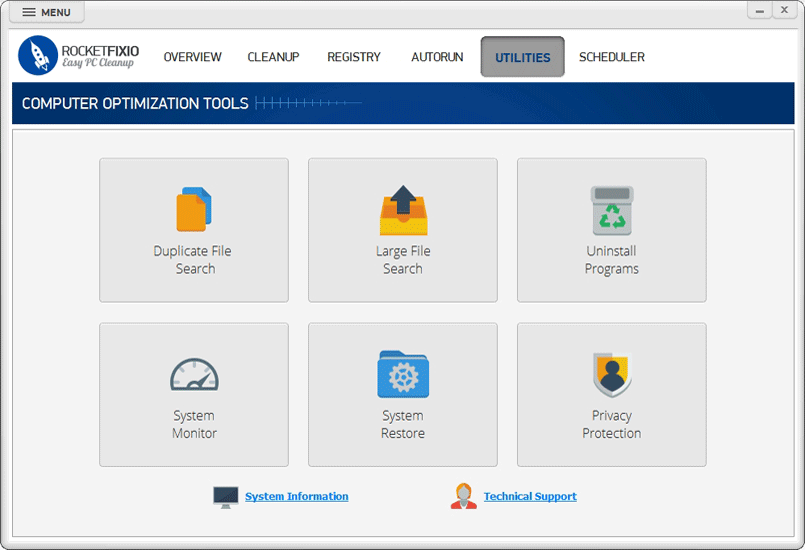 There are different tools for searching unneeded files
Step 4. Schedule automatic checks
That's it! Your computer has been optimized successfully. If you're thinking on how to boost your Windows 10 and make the boost last long, then don't forget to monitor the status of your system after removing all of that junk. Our developers know that you don't always have time to do monitoring yourself, so we've built a convenient scheduler into RocketFixio that will take care of everything for you. All you need is to download RocketFixio, select the appropriate option, and specify how frequently you'd like it to scan your computer.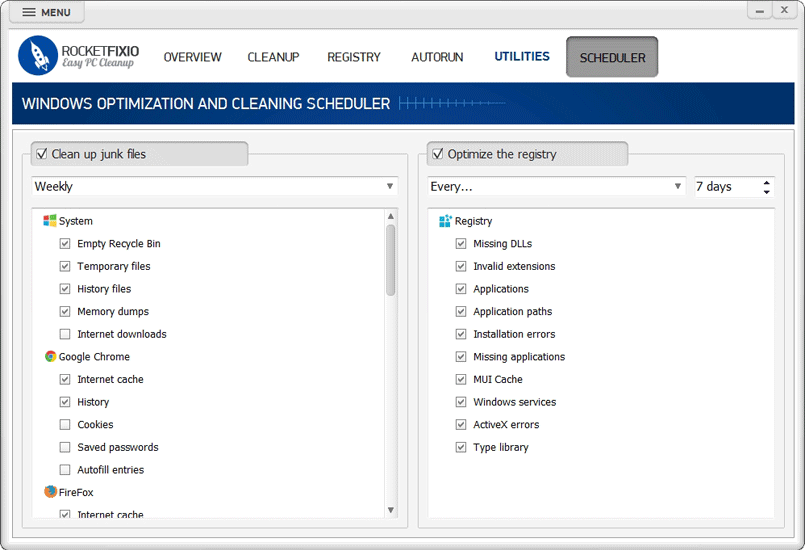 Schedule the automatic cleanup to keep your computer safe
Conclusion
Now you know how to improve performance on Windows 10 with RocketFixio. It's great for anyone who's tired of constant glitches and slowdowns. If you've been struggling to get rid of these for a long time, but to no avail, then we have some good news: you just found what you've been looking for! RocketFixio will be your trusty sidekick in your fight against junk, freeing up disk space, optimizing your system, and achieving the best level of performance possible for your PC.